Shipping Methods & Prizes
METHODS OF DELIVERY
The price for the merchandise to be delivered is the price that was shown at the time of order either via catalogue or the online shop. The price includes all applicable taxes.
Brigitte von Boch bears the majority of the costs for careful, reliable shipping and handling of the merchandise.
Shipping and handling will only be charged once.
Shipping and handling will be charged according to the table below, by country, by delivery method, and weight. In germany we usually deliver via DHL. Bulky goods will be delivered via conveyance.
The conveyance will make a delivery appointment with you. Please inform them about possible delivery difficulties becouse that may cause additional expenses or the cancelation of the delivery.

Tabe of delivery charges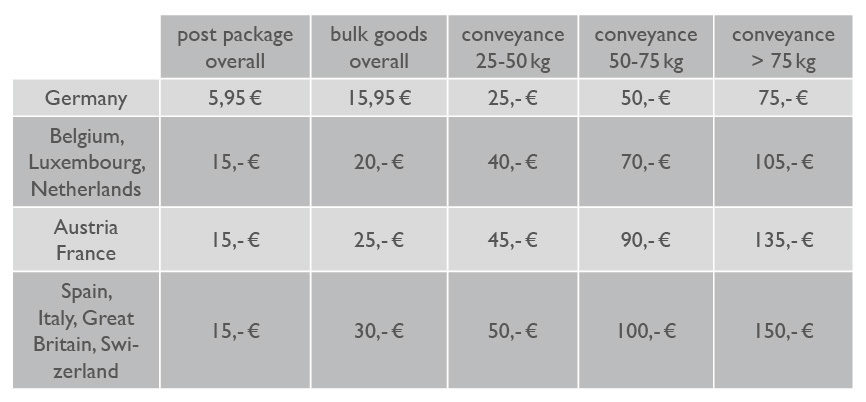 SHIPPING OF GIFT VOUCHERS
We offer free shipping for all our gift vouchers.
If you order additional items, respective shipping costs may incur.
CLAUSE OF DELIVERY
We will contact you immediately should the merchandise no longer be available. You may then change or cancel your order. Should we not receive communication from you, we reserve the right to substitute delivery of merchandise of equal or similar price and quality. You of course, have the right to return the merchandise within 30 days when receiving a substitute delivery.